Hello, dear readers.
Wow, has it been a long time since my last blog post!
Things have become quite hectic in the world of third-year-almost-finished-her-undergraduate-degree Caitlyn.
If you have seen me in your travels over the past several weeks, chances are that I had a large cup of coffee glued to my hand and was muttering something about journalism and the news.
I have also considered permanently naming the bags under my eyes Dolce and Gabbana.
As a bit of a treat for you all, I've decided to write a more light-hearted blog post about something in my life I'm quite passionate about- books!
Lately, I have been doing a lot of reading.
Scratch that. I'm pretty much always reading.
Bookstores are dangerous places for me to visit, and even more so as a struggling University student.
I can spend just an hour in Dymocks alone, wandering the aisles and browsing titles and breathing in that brand new book smell…
…it's a thing, okay? And old books smell just as good. I'm not weird.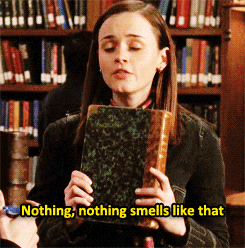 I consider myself a bit like Rory Gilmore- a true bookworm. There is always a book in my bag, even when I go out socially. I'm also a bit like Matilda Wormwood in the sense that I started reading and became passionate about books at a young age except, unlike Matilda I have kind and loving parents and unfortunately have no telekinetic powers.*
So without further ado, I give you all the list of my favourite pieces of literature.
They are not in order of preference because I can't pick a favourite. Please don't make me do that. That's just mean.
The Book Thief by Markus Zusak 
The Book Thief is arguably one of the best pieces of modern literature. I'm mostly a 'book before the movie' kinda gal, however, I made the mistake of watching Percival's 2013 film adaptation before I read the novel. Determined that I had spoiled any chance of enjoying the book, I didn't read it until three years later during my mid-semester break. I was determined to make my way through the Dymocks 101 list and at the time, Zusak's novel was number one. The narration of the text is just exquisite, and the tale of young Liesel Meminger will move you to tears. Trust me, I sobbed my way through the last forty or so pages of the book.
Read if you feel like reading about the Second World War and history; tales of romance; tales of tragedy
The Harry Potter series by J.K. Rowling
I will be a Potterhead for life- it's just that simple. While I love the films, the books will always remain to be my favourite series of all time. I love the magic of Rowling's writing and how it continues to warm your heart even years after you first read one of the books. I adore the series that much, I'm likely to become one of those adults that have a separate room just for all their Harry Potter and house memorabilia (I'm a proud Gryffindor F.Y.I.) and that name their pets after characters.
Read if you feel like some fantasy and adventure; tales of friendship; a warm hug
Matilda by Roald Dahl 
I love, love, love this book. Even as I'm nearing twenty-two years of age, this book always stays with me- it's one of my childhood favourites and always shall be. I even own a paperback copy written in French. The tale of Matilda being adopted by Miss Honey still gives me goosebumps just as the terrifying Miss Trunchbull still haunts my dreams.
Read if you feel like reminiscing about your childhood
Breakfast at Tiffany's by Truman Capote 
As cliché as it is, Breakfast at Tiffany's is one of my favourite pieces of literature, ever. I simply adore both the novel and Edwards' 1961 film adaption, where Audrey Hepburn delivers an elegant performance of the iconic Holly Golightly. Although the text is quite short in length, it is a classic and a must-read for bookworms everywhere. I love the text that much that when I visited New York back in 2015 I had to venture to 5th Ave. just to stand out the front and snap a picture. It was so worth it.
Read if you feel like something a bit classical; you are feeling lost in this big world; a love story
The Pagemaster by David Kirschner 
I can still vividly recall the day my class were gathered around our grade one teacher, listening to the tale of the Pagemaster. It was a bad weather day, so we were all inside sitting cross-legged on the carpet. I ended up falling in love with this book, almost instantly. The illustrations are just gorgeous and the narrative is compelling. I ended begging my parents to buy me a copy and they eventually gave in. That book was almost impossible to track down with not many copies existing in circulation. Thankfully, they ended up sourcing it from some suburb in Melbourne. Mum, dad, if you're reading this- thank you. I still treasure this book so very much.
Read if you feel like reminiscing about your childhood; adventure; fantasy
To Kill a Mockingbird by Harper Lee 
To Kill a Mockingbird should be a compulsory text for all high school students to read and study. I first read this book in year ten, while studying literature and just fell in love with Lee's style of writing. The message that this story portrays about not practising prejudice still remains relevant today, making it a quintessential read for all.
Read if you feel like reading a classic; hearing tales of humanity; some history
Yes Please by Amy Poehler 
Amy Poehler is a treasure to this world and one of my favourite comedians. Her book, Yes Please which was published in 2014 is a must for your bookshelf. Poehler writes about how she fell in love with improv and recounts stories from her early days on Saturday Night Live, as well as offering advice to readers on a range of different topics. You will laugh and you will cry and you will cry from laughing so much.
Read if you feel like a warm hug; you need a bit of a pick-me-up; you are never going to make it in the creative arts industry and you need reassurance**
The Perks of Being a Wallflower by Stephen Chbosky 
Chbosky's book and his 2012 film adaptation are both gorgeous texts. If you ever felt like a wallflower in high school, you just have to read this book. The storyline will probably make you a little teary (same with the film) so have some tissues close by for some ugly sobbing.
Read if you feel like (or have ever felt like) an outcast; you need a good cry; tales of friendship
The Price of Salt by Patricia Highsmith 
The Price of Salt was originally published in 1952 under the pseudonym 'Claire Morgan' as writer Patricia Highsmith did not wish to be titled as a lesbian writer and because some of the text was based on references to her own life. It has since been republished under the title, Carol, and has been turned into a film of the same name starring Cate Blanchett and Rooney Mara. This book is simply gorgeous- it is so beautifully written and the story itself is divine. It is one of the very few texts I can think of (including films and television series) that give a happy ending to a lesbian couple. So thank you, Ms Highsmith, for not killing off any lesbians and saving us all from more pain.
Read if you feel like a love story
Big Little Lies by Liane Moriarty 
This is the most recent book I've read and it made it on my list of favourites. I couldn't put it down- it was that intense. Big Little Lies is full of so many twists and turns and if you're thinking of watching the adapted television series starring Reese Witherspoon and Nicole Kidman, READ THE BOOK FIRST. I won't say anything else because I don't want to spoil it. Just read it. NOW.
Read if you feel like a real page turning thriller
– C x
Also, feel free to follow me on Goodreads 🙂
---
* I was very disappointed when I discovered at age six that I could not move things around the room with my eyes like Miss Matilda, despite my efforts.
** Relatable.